UMass - MWRA Drinking Water Research Collaboration
9/1/90-present
PIs: Reckhow, Tobiason & Edzwald
Students: Many
The purposes of these studies has been varied and most have been in response to current needs of MWRA. Many of the earlier ones were in preparation for the design and construction of the Carroll Plant.
Funded Projects
Key Integrated Project Data
Summary presentations based on this work
Theses/Dissertations based on this work
Zhou, X. "Formation and Removal of Aldehydes in Drinking Water Treatment Processes," MS Thesis, February, 1993.
Zhu, Q. "Evaluation of Selected Treatment Alternatives in Controlling Haloacetic Acid Formation," MS Thesis, May, 1993
Byrnes, P.D. "Impact of Oxidant Exposure on the AOC Values of a Model Water," MS Thesis, February, 1995.

Additional Background: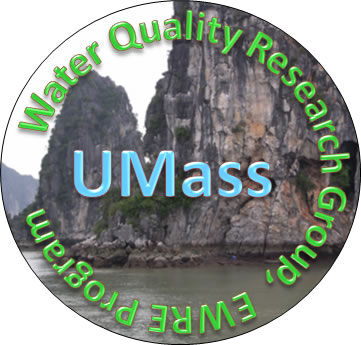 Return to Dave Reckhow's home page.