UV Disinfection and Disinfection Byproduct Characteristics of Unfiltered Waters
American Water Works Association Research Foundation, 12/1/2000-11/30/2002
PIs: William Bellamy, Tom Pearson, James P. Malley, David A. Reckhow, John Marrino, Robert Grob
Students: x
The purpose of this study was to investigate the impacts of changes in Winnipeg's oxidation/disinfection scheme on disinfection byproduct formation.  This includes the possible use of chlorine dioxide, chloramines, or intermittent chlorination pre-disinfection/oxidation, the possible use of UV for primary disinfection (with free chlorine for viral inactivation), and the use of chloramines for distribution system residual.  Aside from the three predisinfectant options, UMass was asked to consider three chloramination options (pre-chlorination, pre-ammoniation and application of pre-formed chloramines) and two different placements of post chlorination (before and after UV).  UMass was also asked to examine water quality effects that are likely to impact regrowth in the Winnipeg distribution system.
Proposal, Plans and Reports
Progress Reports: #1, #2, #3, #4, #5, #6, #7, #8
Project Data
Conference presentations based on this work
Theses/Dissertations based on this work
Additional Background: The City of Winnipeg, Man., (the City) (pop. 630,000) is implementing UV primary disinfection as a key component of its water supply and treatment processes. Recent studies have demonstrated the effectiveness of UV disinfection for the inactivation of Cryptosporidium oocysts and Giardia cysts. The verification of UV disinfection efficiency combined with advances in lamp technology, and increased equipment reliability, has made the application of UV a cost-effective alternative for drinking-water applications. However, there are still a number of uncertainties associated with UV efficacy for waters with variable quality (e.g., the impact of turbidity, algae, and organics). In addition, these site-specific variables can affect other operating conditions, such as lamp fouling rates, UV transmittance, and DBPs.
On the basis of these uncertainties, the following specific objectives were developed for this research project:

Determine the impact of turbidity on UV disinfection efficacy (pilot- and bench-scale testing)
Determine the impact of algae on UV disinfection efficacy (pilot- and bench-scale testing)
Determine the impact of total organic carbon (TOC) on UV disinfection efficacy (pilot- and bench-scale testing)
Determine the possible reduction and change in DBPs attainable after converting to UV for primary disinfection (bench-scale testing)
Determine the impact of algae and TOC on lamp fouling characteristics and cleaning needs over a 1-year period (pilot-scale testing)

The results of this study provide information necessary to determine the appropriateness of including UV in the City's treatment plans, as well as provide information to other utilities that are considering UV for situations other than disinfection of filtered waters. This might include systems with groundwater, bank filtration, uncovered reservoirs, unfiltered supplies, and possibly UV prior to filtration. The DBP information demonstrates possible approaches and anticipated outcomes for changes in the disinfection system to control the type and concentration of DBPs when using UV as the primary disinfectant.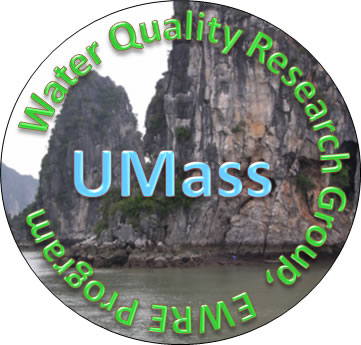 Return to Dave Reckhow's home page.