Evaluation of Organic Matter in the MWRA Drinking Water Distribution System
Camp, Dresser & McKee, 2/12/97-11/30/98
The purpose of this study was to characterize the nature of the organic matter entering and being transported through the MWRA water distribution system and to assess the impacts of disinfection (i.e., ozone, chlorine and chioramines) on that organic matter. The work involved quarterly and monthly sampling and analysis of raw (untreated) water, treated water prior to entering member community distribution systems (i.e., Commonwealth Avenue Pump Station) and several samples from distribution systems, including a minimum of three from the BWSC system. The research also involved a bench-scale assessment of the impact of disinfection (chlorine, chloramines, ozone) on some important properties of the natural organic matter (NOM), such as biodegradability and its tendency to form DBP's. A limited number of tests were also aimed at assessing the effects of coagulation on NOM removal and at measuring the association between the NOM and iron.
Proposal, Plans and Reports
Project Data
Hintz lab notebook
MWRA-CDM e-archive
Conference presentations based on this work
Theses/Dissertations based on this work
Additional Background: The raw water entering the MWRA transmission system at the Cosgrove Intake of the Wachusett Reservoir is a product of hydrologic and related processes within the 114 square mile Wachusett watershed as well as transfers of water into Wachusett from Quabbin Reservoir (Ware River water may also be input, but this has not occurred for several years).  During the April 1997 to mid July 1998 period of this study, water was transferred from Quabbin to Wachusett only during June to November 1997 at average daily rates per month ranging from 136 to 290 MGD.  The general quality of the Cosgrove intake water during the study period can be described as follows:  pH of 6.5-7.4, alkalinity of 6-8 mg/L as CaCO3 , turbidity of 0.2 – 0.5 ntu and temperature of 34 - 65oF.  Further characterization is focused on organic matter in Wachusett raw water. For other drinking water collaborations between UMass and MWRA click here.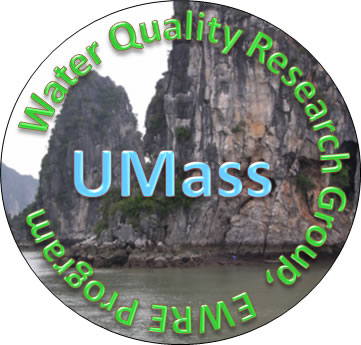 Return to Dave Reckhow's home page.