Demonstration Plant Studies on Nutrient Removal from Wastewater by Primary Treatment
Massachusetts Division of Water Pollution Control, 1970-1973
project 15-51450

This was one of the first research projects to make use of the newly-constructed UMass wastewater pilot plant. Chemical clarification of raw municipal wastewater was the main focus. The investigators made use of a Permutit pilot-scale upflow clarifier at flow rates up to 12 gpm.
Proposals, Plans and Reports
Jounal Publications based on this work
Conference presentations based on this work
Theses/Dissertations based on this work
Burgess, Paul D., "Operation of an Upflow Clarifier with Lime Coagulation to Remove Phosphorus and Organics from Domestic Sewage", MS Thesis, 1973
Fahey, Richard J., "Addition of Polymers and Lime for Phosphorus Removal in Raw Domestic Waste Water", MS Thesis, 1974
Burke, Robert, "Phosphorus Removal in Extended Aeration Treatment by the Addition of Alum", MS Thesis, 1973.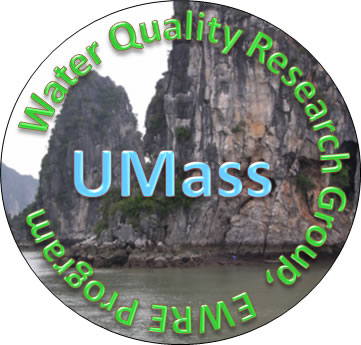 See other MDWPC R&D Projects
Return to Dave Reckhow's home page.