UMass Wastewater Pilot Plant : Original Layout
Following execution of the MDWPC agreement with UMass in 1969, Tom Feng and Fran DiGiano began planning the wastewater pilot plant where much of the research and demonstration work would be done. With Jerry Foess's arrival in June 1970, he began to turn Tom and Fran's concepts into executable plans. The MDWPC had funded projects using several treatment units in eastern MA that they wanted to relocate to UMass. Perhaps first among these was an upflow clarifier that was installed just outside of the Butler buliding on its SE corner. Next was the plastic media tower that was located in the far SE corner of the lot and the rock trickling filter immediately north of the tower. These units had been previously used by Metcalf & Eddy in an MDWPC-funded project at the Marlborough WWTP (near the border with Framingham) from 11/68 to 5/70. The mobile trailer lab that appears in a Jan 71 site plan may have also come from the same project. This was probably removed when the Butler building was constructed.
In late 1971 a 24,000 gal DAVCO extended aeration unit was installed in the yard just north of the rock trickling filter. It had come from another MDWPC-funded study. This one was conducted by CDM at the Fitchburg WWTP (near the border with Leominster) which included an operator training component. Its possible this unit originally came from the M&E study. Bob Weimar, then a senior CE major, was tasked by Fran DiGiano and Jerry Foess to oversee its installation and startup. About this time, a 1600 square foot Butler building was purchased and constructed on the site by a local contractor as early as 1971, but more likely in 1972 (probably by O'Leary Construction, now O'Leary Group, Inc of Southampton). 
For the first 6 years (1971-1977) both raw and primary treated wastewater was piped from the Amherst WW treatment plant.  At the time, the Amherst municipal plant only had primary treatment.  A submersible pump was placed in the center clearwell of the primary clarifier and a pipe was run across the clarifier to the fence and over into a wet well which fed the DAVCO units by gravity.  This raw WW required the need for a Bauer hydrosieve before further treatment on the UMass site.  Return flow required a pumping station equipped with a Gorman Rupp pump to lift WW back to headworks of Amherst WWTP.  In addition, primary clarified wastewater was piped directly from the splitter box and over the fence.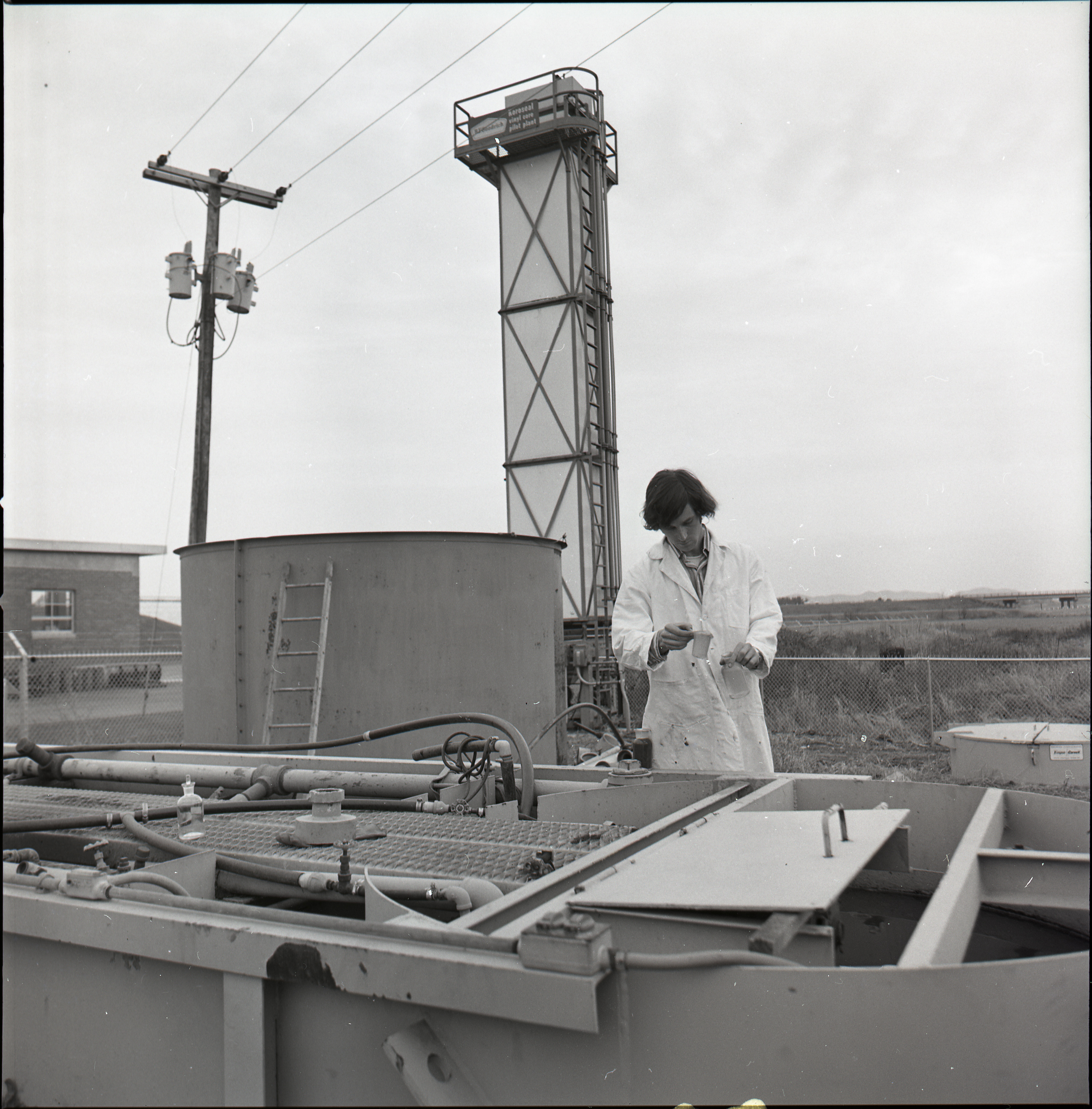 WWPP Yard (11/16/1972); showing first Davco unit, rock filter, plastic media tower and Enpo-Cornell pump station. At far left across the fence is a corner of the old Amherst WWTP.
Pre-Construction Drawings (January 1971):
Design Drawings for Research Buliding (May 1971):
Pumps and pump stations:
Enpo-Cornell pump station for WW return
Second Davco Unit (Dec 1973):
Modifications (June 1975):
For later WWPP site use see the page on the WWPP site history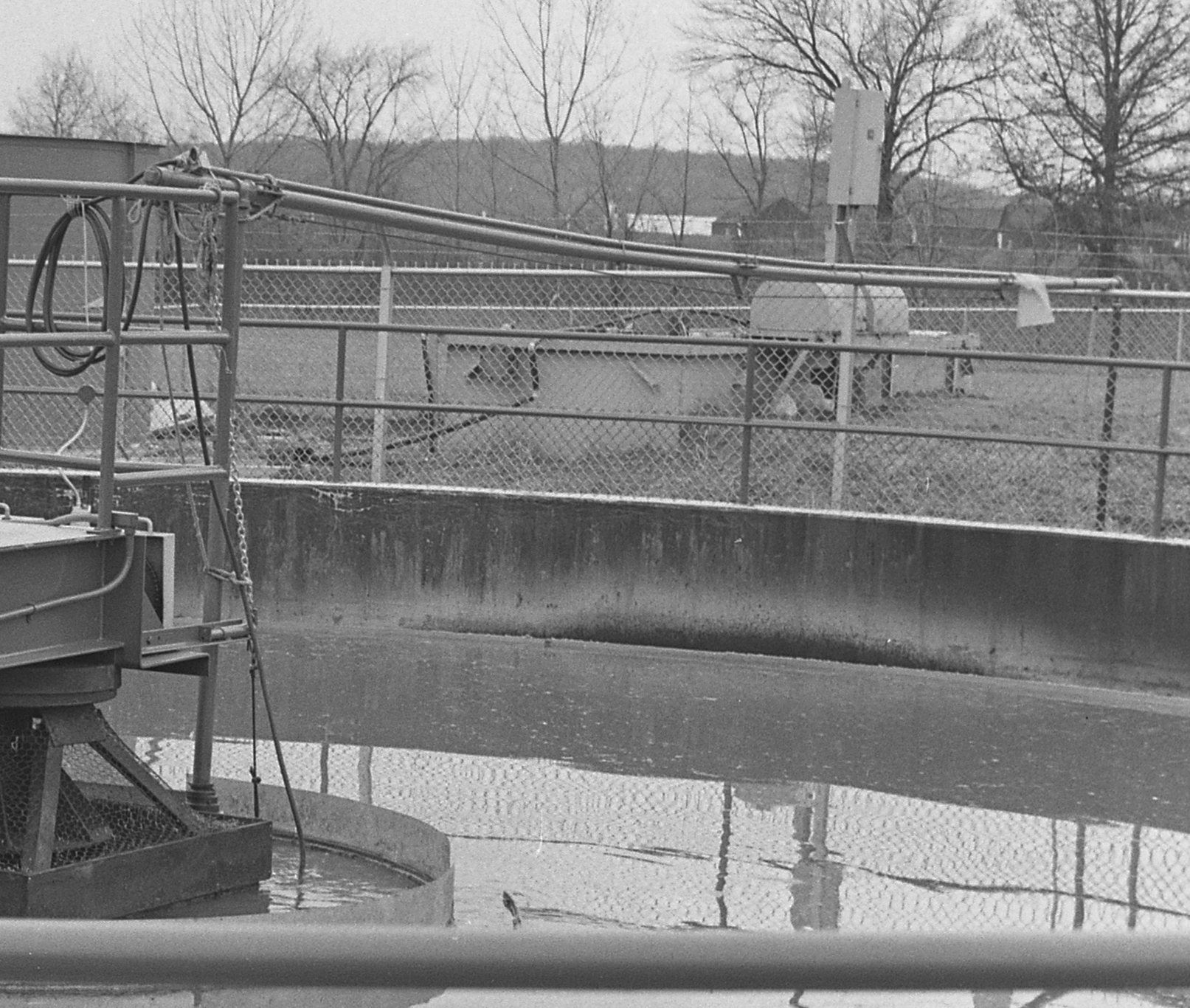 Primary Clarifier at old Amherst WWTP (11/16/1972) showing pipe connection from submersible pump in center clearwell and pipe running over the UMass fence.
Additional Background:
The MDWPC grants were key to the early growth and success of the UMass Environmental Engineering Program. It supported a substantial expansion of the Master's program thereby helping to meet the growing regional and national need for environmental engineers. In addition, the MDWPC grants were instrumental in establishing the UMass Wastewater Pilot Plant (WWPP) on the west side of campus. With these funds, Dr. Gerald W. Foess was hired in June 1970 to serve as research coordinator for the MDWPC grants, and oversaw the design and construction of the WWPP. Following Jerry's departure in 1973, a series of Research Engineers were hired to help administer the MDWPC grants and to provide general laboratory assistance. Among these were Bob Pariseau, Jim Martel, Bill Evans, Kevin Sheehan and Dan Wagner.
Relevant Program Documents & Memos:
---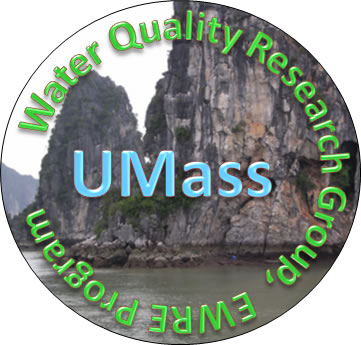 For more on EWRE Program history
Return to Dave Reckhow's home page.