A Short History of the EWRE Program
Fundamentals of Sanitary Engineering have been a part of Civil Engineering education at UMass from the very beginning of the CE program in 1947 (click here for more on the founding of the Engineering program). In 1949 Earl Anderson joined the faculty. Becuase of his interests in wastewater treatment and solid waste, Earl was asked to teach sanitary engineering principles. Earl would remain as a full-time faculty until 1954, and would later return on a part time basis to teach solid waste management.
Tom Feng joined the UMass faculty in 1951 as the first research-active professor of what was then known as Sanitary Engineering.  This year also marked the start of the Civil Engineering graduate program. Over the next 10 years, 20 students would graduate from UMass with an MSCE, nearly all focusing on structural engineering. In 1962, Tom convinced a promising young BSCE graduate, Daniel Fitzgerald, to stay at UMass and work toward an MS under Tom's direction. Despite a lack of funding, Dan was able to conduct original laboratory research on the removal of an emerging contaminant (alkyl benzene sulfonate) from wastewater. In early 1964, Dan finished both his coursework and thesis in time for the April 1964 graduation deadline, thereby becoming the first sanitary engineering (SA) graduate at UMass. Almost immediately, Tom went to work building the new SA graduate program.  A full year passed before Tom's second graduate student, Henry Hyde, entered into the MS program. By this time Tom had secured external funding and Henry completed his thesis and MS requirements in 1966.
The fall of 1966 saw three new MS students enter the program, as the US environmental movement began heating up and as Tom continued his efforts to put UMass on the path to success. About this time, Bernie Berger came to campus as director of the new Massachusetts Water Resources Research Center (WRRC).  At 54 years of age, Bernie was already an internationally known leader in sanitary engineering with 25 years in the US Public Health Service.  Once at the University, Berger served as the United States' water resources specialist in the executive office of Science and Technology and worked as a consultant to Israel in 1972 on that country's creation of the Israel Environmental Service, now the Department of the Environment and as a consultant to South Africa on a similar project in 1975.

By 1967, Tom had brought in four new faculty, bringing the total number up to six.  Larry Kuzminski came from a food science background to cover the water chemistry area and to manage a new US Army grant on disinfection of water.  Both Dean Adrian and John Nebiker came from Vanderbilt University. Dean had received his PhD 3 years earlier from Stanford and John's PhD was from the Swiss Federal Institute in 1965.  Dean offered courses in physico-chemical treatment processes, environmental modeling and institutions and policies.  Rolf Skrinde came from Bangkok and was another highly-regarded faculty hire with special interests in reverse osmosis.  Dean Adrian went right to work, securing a $160K grant on control of water treatment waste solids from FWQA in June 1967 (John Nebiker joined him as co-PI).  The next year he won an even larger grant on regional waste management.  It was also in 1967 that the faculty decided to update their program's name to the more modern "environmental engineering".

Roscoe Ward was hired in 1968, followed by Fran DiGiano in 1969.  Thus, before the end of the decade, Tom's program had grown to 8 faculty.  Tom was quite savvy to all that was happening at the federal level in these days before passage of the Clean Water Act.   Having Bernie Berger on the faculty undoubtedly helped Tom to make many federal connections. Tom worked hard to get traineeship money which allowed him to bring in more graduate students as well as faculty.  One was an air pollution training grant which may have provided the support for Fran's position. A second was the large research and training grant from the Massachusetts Division of Water Pollution Control (within DEQE, now DEP) that opened a door which remained open through 1989.  Aside from providing support for dozens of graduate students, the MWDPC grant provided the means to construct a wastewater pilot plant on the edge of campus near the newly constructed Amherst town WW plant.  At this point Tom and Fran hired Gerald Foess to run the plant and oversee some of the student research.  This plant would continue to be used for research through the end of the 1980s.

Around this time, Tom also secured an air pollution training grant for the program which he eventually used to attract Jim Halitsky to the faculty (1971).  Jim was in mid-career (51 years of age) when he was hired at UMass.  He had been forced to re-invent himself and leave the field of aeronautical engineering after running up against Joseph McCarthy's senate committee on un-American activities.  Eventually he cleared his name, but he decided to stay in his new field of meteorology and air pollution.  Despite the departure of Rolf Skrinde in 1969 (returning to his native Washington State) and John Nebiker in 1970, the EVE program was still boasting a very healthy faculty and student population. 

By 1974 the program had 30 MS students, 10 PhD students and 84 MS & PhD graduates. During those first 9 years of the program Tom secured over $830K in funding (8 external grants) which is equivalent to about $5M in 2014 dollars.  As already mentioned, the Mass Division of Water Pollution Control R&D project was instrumental in helping to develop our research program. 

Enrique La Motta came to UMass in 1976 from University of Miami at Coral Gables, with both an MS (1969) and a PhD (1974) from UNC-Chapel Hill. His specialty was water and wastewater treatment as well as water chemistry. He was a very active faculty member and key contributor to the program for the full 4 years he remained in Amherst. In 1980 he returned to his native Quito to teach at the National Polytechnic School. Eventually he would return to the US to work as a faculty member at the Department of Civil and Environmental Engineering at the University of New Orleans. In 1977 the EVE group said good by to Larry Kuzminski and welcomed Jim Male (PhD '73 JHU). Jim brought new capabilities in opimization techniques for water resources and distribution systems management.

The year 1980 saw the arrival of four new faculty: Richard Noss, Michael Switzenbaum, Neil Ram and David Ostendorf.  Rick and Dave both had just earned PhDs from MIT, Neil from Harvard and Mike from Cornell.
Although Dave was originally hired into the hydraulics program, he and Charlie Carver became formally associated with the environmental engineering in 1982 when the hydraulics program was phased out.
In the early 80s there was an unplanned yet distinct transition in the process faculty.  The early group was retiring or leaving (LaMotta in 1980; DiGiano in 1981; Feng in 1982, Adrian in 1983) to be replaced by a new generation (Switzenbaum in 1981; Ram in 1980 to be replaced by Reckhow in 1985; Edzwald in 1984; Tobiason in 1987).

One of the early 80s hires was Jim Edzwald.  At this time he was already an internationally known scholar and had served on the faculty of University of Missouri and Clarkson University.  Jim assumed a leadership role in the program, in many ways filling the void left by Tom Feng, Dean Adrian and Fran DiGiano's departure.  While UMass had always been well known in the area of wastewater treatment, it was mostly through Fran's and then Jim's leadership that the program became an acknowledged leader in drinking water treatment technology as well.  Jim served as a mentor to the growing faculty in this area.  First there was Neil Ram who had preceded Jim at UMass by a few years.  However, Neal left UMass for consulting in the Boston area in early 1985, and Dave Reckhow was hired to replace him in the fall of that year.  Dave had come from UNC Chapel Hill (PhD'84) and a 1-yr post at the Compagnie Général des Eaux.  In 1987 Rick Noss left UMass for a consulting career, and John Tobiason was hired.  John had just finished his PhD from Johns Hopkins.  Also in this year, Charlie Carver retired after 31 years on the CEE faculty.

There has always been a close connection between the University of North Carolina (especially with Charlie O'Melia and Phil Singer) and the UMass environmental engineering program.  Many of the faculty have associations with both.  Charlie and Phil brought Fran to UNC in 1981.  Both Enrique LaMotta and John Tobiason have MS degrees from UNC, and Jim Edzwald and Dave Reckhow have their PhDs from UNC.  It should be noted that John did his PhD under O'Melia after he left UNC to join Johns Hopkins.  Later Sharon Long would join this list of UNC PhDs on the UMass faculty.  Aside from the faculty there have been many students who have received degrees from both programs.

John Tobiason, Jim Edzwald and Dave Reckhow turned water treated research at UMass into a team effort.  Starting in 1986 they began tapping the AWWA Research Foundation (AWWARF, now WRF) for research funding.  Two years later they initiated the Institute for Drinking Water Treatment, a 3-day short course that they have continued to offer every summer to the present.  In 1987 they were approached by Howard Dunn, a former student of Jim's from Clarkson and a UNC classmate of Dave's.  At the time he was working for South Central Connecticut Regional Water Authority and had the idea of contracting with UMass for many of the Authority's process research needs.  This collaboration followed Howard as he moved from SCCRWA in New Haven to BHC, headquartered in Bridgeport.  While BHC no longer exists, its successor (Aquarion) continues to fund UMass to this day (27 years later).  The SCCRWA/BHC/Aquarion series of projects have supported more than 60 MS and PhD students in the program.  This could be considered the potable water equivalent of the 21 year (1966-1987) MDWPC wastewater research and training grant initiated by Tom Feng.  It also bears many similar features to Dave Ostendorf's MHD/DOT Interagency Service Agreement that has now supported 20 years of students in the groundwater area.  The fourth major long-term program was originally developed in collaboration with two EVE alums, Patricia Austin and Bill Pula.  With their help, UMass was able to engage in a 20-year (and still going) research program with the MA Department of Conservation and Recreation.  This covers surface water quality, and in particular modeling of the Quabbin and Wachusett Reservoirs and watershed.

In September of 1986, when word of Tom Feng's passing reached Amherst, the faculty immediately started planning for some type of lasting tribute to the program's founder.   Many ideas were tossed around, but an annual lectureship honoring a prominent mentor seemed most appropriate.  Thus was born the Feng Lecture Series.  By early 1989 the pieces were in place and Perry McCarty from Stanford was elected the first Feng Lecturer.

In the mid-1990s Sharon Long (1993) and Sarina Ergas (1994) were added to the faculty.  Both had a focus on biological processes, with Sharon taking a microbial ecology perspective and Sarina looking at the systems from more of a process point of view.  Sharon went on to become especially well known in the area of microbial source tracking.  Sarina worked on a variety of mixed microbial process combining them with membranes, granular media and oxidants.  Sarina also revived the program's activity in air pollution which had been largely dormant since the departure of James Halitsky in 1975.

Starting in the late 90s and continuing into the new millennium, the water resources component of the program began to grow.  In 1997 Jim Male left UMass for the University of Portland and at the same time David Ahlfeld left UConn for UMass.  Ahlfeld's arrival added substantial strength to the program's capabilities in groundwater modeling, building on the field-based work that had been going on in Ostendorf's group for many years.  In 1999 Paula Rees (PhD'97 Princeton) joined the faculty.  Before leaving in 2007 to take on the directorship of the MA WRRC, Paula had become well known for her research on hydrology, hydrometeorology, and water quality modeling, especially as it pertains to the Blackstone River watershed.  Then, in 2008 Rick Palmer was hired from the University of Washington as the new CEE Department Head.  Within a few months, Casey Brown (PhD'04 Harvard) was added to the faculty.  Both of these two are highly regarded and internationally known experts in water resources planning especially as it is impacted by uncertainly and climate change.  As a reflection of UMass's new strength in water resources, the program was renamed "Environmental and Water Resources Engineering" (EWRE). With the subsequent awarding of the Northeast Climate Science Center to UMass (Palmer as PI), the program has become a world leader in this area.

The first decade of the new millennium also saw substantial turnover in the process area with the retirement of Jim Edzwald (2006) and the departure of Mike Switzenbaum (to Marquette Univ in 2003), Sharon Long (to Univ of Wisconsin in 2006) and Sarina Ergas (to Univ of South Florida in 2009).  To help fill this void, Erik Rosenfeldt and Chul Park were hired in 2007 and Caitlyn Butler was hired in 2011.  Chul came from the strong Virginia Tech program and has been very active in biological nutrient removal and use of algae for wastewater treatment.  Erik had received his PhD from Duke and focused on UV treatment, advanced oxidation and impacts on human toxicity.  Caitlyn is a member of the first graduating class of Smith College's Picker Engineering Program, and then went on to Notre Dame for her PhD.  One of her main research thrusts is the application of bioelectric systems to latrines.   However, the turnover continued as Erik elected to return to consulting after only 3 years at UMass.
Also during this most recent period, the program acquired some completely new capabilities with the hire of Mi-Hyun Park in 2008 (PhD'04 UCLA).  She brought spatial analysis and remote sensing skills to EWRE along with special interests in harmful algal blooms and stormwater management.  Mi-Hyun departed in 2016, to be replaced by Colin Gleason (PhD'16 UCLA). He continues the theme of remote sensing with special applications to fluvial geomorphology. Finally, the addition of Boris Lau in 2014 from Baylor University and Emily Kumpel in 2017 from UC Berkeley gives the program new strengths in environmental nanotechnology, colloid and surface chemistry (Boris) as well as water and sanitation in developing countries and distribution system quality (Emily).

The year 2004 saw a monumental change in the physical space for EVE students.  From the earliest days of the program a warren of rooms at the northern end of the Marcus Hall basement (rooms 3 & 5 in what was formerly known as Engineering Building East or EBE) served as both office and laboratory for EVE graduate students.  Wet laboratory research was never envisioned by the original architects of this space, a situation that was painfully obvious to all who saw it in the 70s, 80s and 90s.  In the fall of 1985 a faculty committee was convened to plan for a new laboratory building.  Through sheer persistence and active engagement by the CE advisory board, EVE's request rose to the top of the campus priority list and design for a new building began about 2000.  Official groundbreaking for the Elab II building took place in December 2002 and the program took occupancy of this state-of-the art facility in 2004.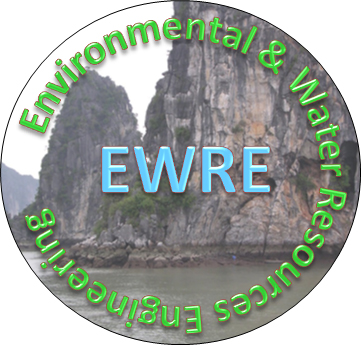 Help us correct errors and fill in gaps. Please send any additions or corrections to Dave Reckhow, EWRE coordinator.
---
Note: Portions of this website are not public. If you are a current or former student/faculty/staff, and need login information, please send a message to Dave Reckhow.