UMass Wastewater Pilot Plant : post-1978
With construction of a new Amherst secondary WWTP, the wastewater supply had to be re-built.  This required that new raw and primary piping had to be installed.  A pair of 4 inch PVC lines were laid between the new municipal plant and a newly constructed pump house on the UMass side of the fence.  In addition, a 2 inch PVC line was installed to provide secondary effluent to the new pump house.  For more on the pre-1978 WWPP design, click here.
During the late 1970s and early 1980s, there were frequent power outages and problems that caused flooding of the pump station.  This led to inundation of the controllers on the return wastewater pumps and need for frequent repair.  By the early 1980s, only the primary WW line was used.  The raw WW line frequently became plugged and may have been affected by plugging of the hydrosieve. By 1983 use of the pumped wastewater supply was completely discontinued.
New Pump House (Nov 1978):
Veneman Construction (1988-90):
Additional Background:
The MDWPC grants were key to the early growth and success of the UMass Environmental Engineering Program. It supported a substantial expansion of the Master's program thereby helping to meet the growing regional and national need for environmental engineers. In addition, the MDWPC grants were instrumental in establishing the UMass Wastewater Pilot Plant (WWPP) on the west side of campus. With these funds, Dr. Gerald W. Foess was hired in June 1970 to serve as research coordinator for the MDWPC grants, and oversaw the design and construction of the WWPP. Following Jerry's departure in 1973, a series of Research Engineers were hired to help administer the MDWPC grants and to provide general laboratory assistance. Among these wereBob Pariseau, Jim Martel, Bill Evans, Kevin Sheehan and Dan Wagner.
Relevant Program Documents & Memos:
---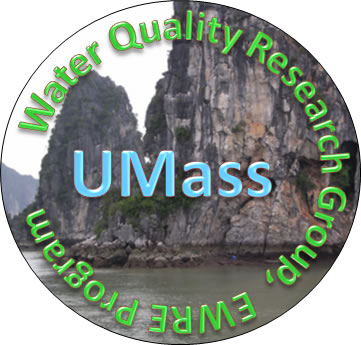 For more on EWRE Program history
Return to Dave Reckhow's home page.