Environmental Engineering Analysis Lab
This is a facility owned and operated by the University of Massachusetts at Amherst. It was created to provide specialized analytical services and bench-scale testing to others across the UMass campus as well as our colleagues at other academic institutions. More recently, we have been offering our services to public and private entities outside of academe.

Analytes and Methods
The EEAL's mission is to offer special analytical services that are not widely available from commercial labs. The EEAL will also provide conventional analyses as a courtesy to those also requesting specialized analysis, bench-scale process tests or those using the UMass Pilot Plant or Mill River Monitoring Facility.
Advanced or Specialized Analytical Methods:
Disinfection Byproducts (emerging and unregulated compounds)
Natural Organic Matter (e.g., EEMs, XAD fractionation)
Specific Organic Compounds (e.g., PPCPs, PFOS)
Conventional Analytical Methods:
Metals and related oxyanions
Non-metals and major anions
Physical Parameters
Regulated DBPs (i.e., THMs and HAAs)
Bench-scale Process Tests:
Coagulation jar test
Disinfection and DBP Precursor Tests
Advanced Oxidation Tests
Special Requests:
The EEAL is also open to a wide range of exploratory analyses, including those using high resolution LC/MS, GC/MS and ICP/MS.
Supporting Facilities:
Additional Background:
The Environmental Engineering Analytical Laboratory is located in the Elab II Building on the Amherst Campus.
---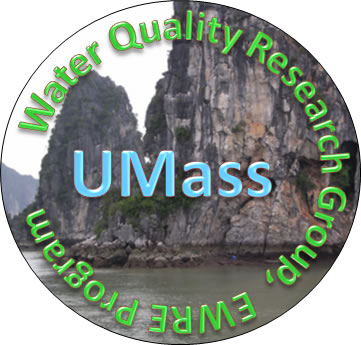 For more on EWRE Program history
Return to Dave Reckhow's home page.