Nonlinear Modeling and Estimation of Polymer Reactors
We were involved in a joint project with ExxonMobil Chemical focused on the development of kinetic modeling and estimation strategies for ethylene propylene-diene (EPDM) polymerization reactors. Our initial work involved kinetic modeling of the Ziegler-Natta catalyzed polymerization with particular emphasis on the numerical fractionation approach for handling gelation due to polymer chain cross-linking. We also developed a general methodology for selecting model parameters which are most suitable for off-line estimation from available measurements. The proposed method was successfully applied to the estimation of EPDM kinetic parameters from simulated plant data. We completed an investigation of combined state and parameter estimation for EPDM reactors. A hierarchical EKF design strategy which exploits the triangular structure of the reactor model and the different sampling frequencies and delays of the available measurements was developed. Simulation tests showed that the EKF generates satisfactory estimates even in the presence of measurement noise and plant/model mismatch.
Our more recent work with Prof. Bryan Coughlin (UMass Department of Polymer Science and Engineering) focused on kinetic modeling of metallocene catalyzed propylene polymerization. We investigated alternative kinetic mechanisms for the coordination-insertion reaction scheme by performing kinetic parameter estimation with continuous reaction rate measurements and end-of-batch molecular weight and end-group measurements. Good agreement with experimental data was obtained for a range of catalyst systems, reactor temperatures, monomer concentrations, and catalyst/co-catalyst ratios. The kinetic models predict that the insertion of the first propylene molecule is rate limiting with respect to propagation, and that the molecular weight decreases with temperature due to the high activation energy of the main chain transfer reaction relative to propagation.
Funding: ExxonMobil Chemical and General Electric
Students: Rujun Li (Ph.D.) and Bernabe Quevedo (M.S.)
Collaborators: Dr. Michael Kurtz (ExxonMobil Chemical) and Prof. Bryan Coughlin (UMass)
Publications:
Semi-Batch Slurry Reactor for Metallocene Catalyzed Polymerization of Olefins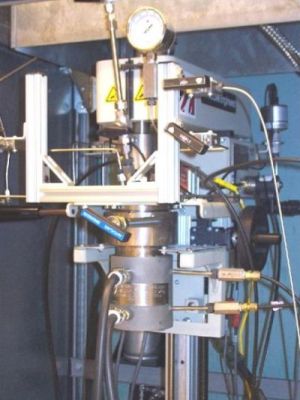 Molecular Weight Predictions from Metallocene Kinetic Model