Microbial Technologies for Biofuels Production
One of the most promising routes to renewable liquid fuels is the conversion of lignocellulosic biomass by microbial organisms. The development of consolidated bioprocessing (CBP) technology requires a microbe that efficiently degrades lignocellulose into fermentable substrates, rapidly uptakes both pentose and hexose sugars as well as their oligomers, and converts available substrates to the targeted fuel at high yield, titer and productivity. Most current research efforts are aimed at identifying and engineering individual microbes with all these capabilities. Despite extensive research efforts, the development of commercially viable CBP technology remains an elusive goal. A promising alternative is to develop synthetic consortia comprised of a few well characterized and easily engineered microbes that collectively achieve CBP. More specifically, synergistic combinations of lignocellulose degrading microbes and biofuel synthesizing microbes may prove to be particularly effective for liquid fuels production.
The objective of this project is to utilize fermentation experiments and dynamic metabolic models of single organisms and consortia of synergistic organisms to develop technologies for efficient conversion of lignocellulose to ethanol. Initial work focused on in silico analysis and engineering of the yeast Saccharomyces cerevisiae for batch and fed-batch fermentation of glucose and glucose/xylose mixtures. Our current research involves modeling and engineering of synthetic microbial consortia for consolidated production of ethanol from cellulosic feedstocks such reengineered feedstock (ReEF) supplied by ReCommunity Recycling.
Funding: ReCommunity Recycling, UMass Institute for Cellular Engineering
Student: Timothy Hanly (4th year Ph.D. student), Ryan Colombo (undergraduate student)
Collaborator: Dingrong Bai (ReCommunity Recycling)
Publications and Recent Presentations:
Hjersted, J. and M. A. Henson, "Optimization of Fed-Batch Yeast Fermentation using Dynamic Flux Balance Models," Biotechnology Progress, 22, 1239-1248 (2006). [PDF]
Hjersted, J., M. A. Henson and R. Mahadevan, "Genome-Scale Analysis of Saccharomyces cerevisiae Metabolism and Ethanol Production in Fed-Batch Culture," Biotechnology and Bioengineering, 97, 1190-1204 (2007). [PDF]
Hjersted, J. and M. A. Henson, "Steady-State and Dynamic Flux Balance Analysis of Ethanol Production by Saccharomyces cerevisiae,'' IET Systems Biology, 3, 167-179 (2009). [PDF]
Hjersted, J. and M. A. Henson, "Determining Metabolite Production Capabilities of Saccharomyces cerevisiae using Dynamic Flux Balance Analysis," in Methods in Bioengineering: Systems Analysis of Biological Networks, Arul Jayaraman and Juergen Hahn (Eds.), Artech House, Boston, MA, 149-178, 2009.
Hanly, T. J. and M. A. Henson, "Dynamic Flux Balance Modeling of Microbial Co-Cultures for Efficient Batch Fermentation of Glucose and Xylose Mixtures," Biotechnology and Bioengineering, 108, 376-385 (2010). [PDF]
Kambam, P. K. R. and M. A. Henson, "Engineering Bacterial Processes for Cellulosic Ethanol Production," Biofuels, 1, 729-744 (2010).
Synthetic microbial consortium for consolidated bioprocessing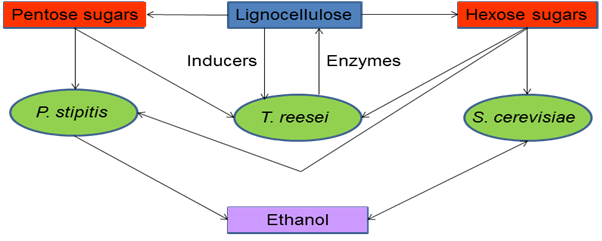 Predicted behavior of consortium for batch growth on 50 g/L cellulose and 25 g/L hemicellulose