Network Systems Laboratory
Over the years, I had the privilege to work with many talented students in my lab. All doctoral graduates are listed in the Mathematics Genealogy Project. Here is a alphabetical list of current and past students in the Network Systems Lab (NSL):
Current Students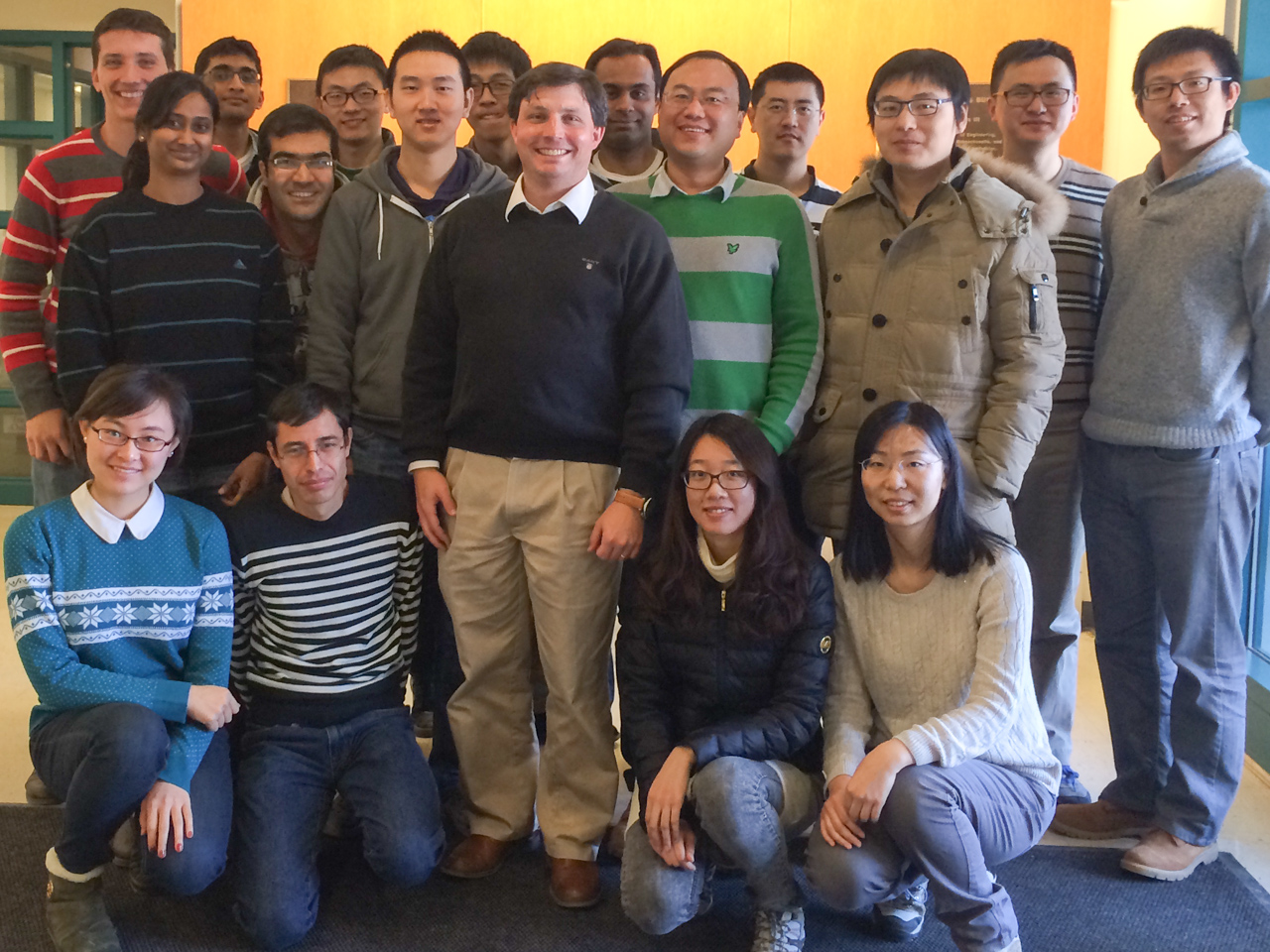 March 2014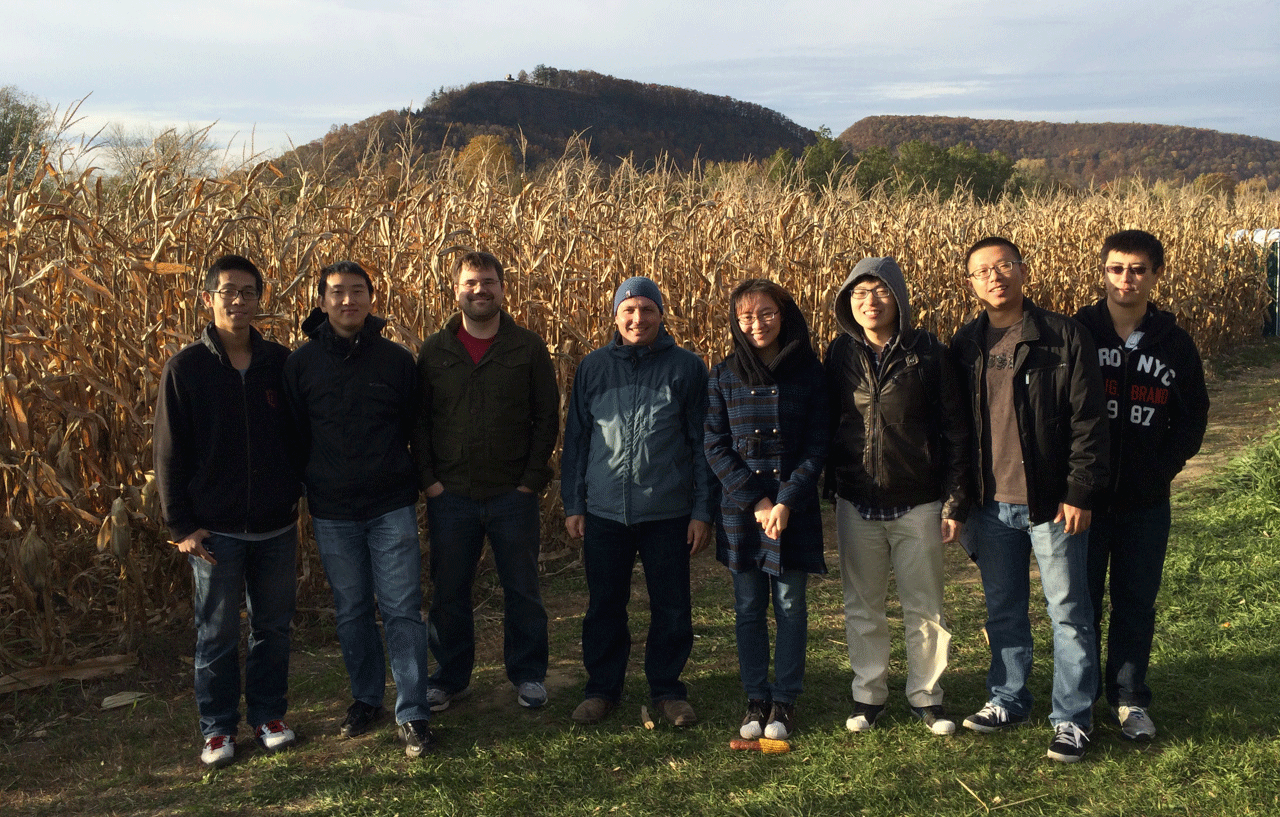 Shuai Chen, Xinming Chen, Jeremy Gummeson, Tilman Wolf, Xue Yu, Hao Cai, Yunsheng Qi, Shuo Guo
Visiting Researchers
Luis Andres Marentes Cubillos
Dr. Lei Shi
Dr. Jin Zhao
Current PhD Students
Hao Cai
Abhishek Dwaraki, M.S. 2011
Arman Pouraghily
Thiago Teixeira
Current MS Students
Shuai Chen
Padmaja Duggisetty
Jingrui Li
Yunsheng Qi
Pengcheng Wang
Xue Yu
Past Students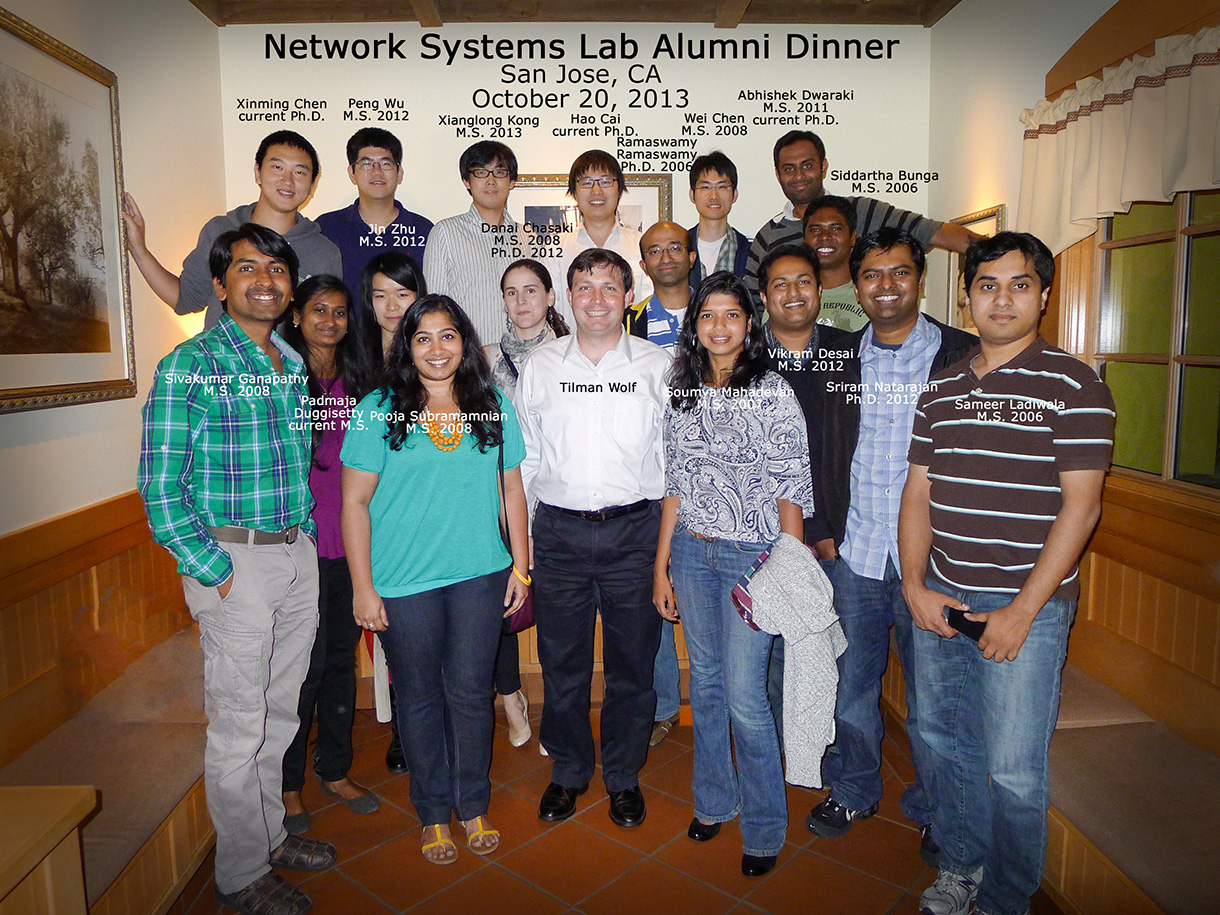 Siddartha Bunga, M.S. 2006.
Yan Cai, Ph.D. 2011.
Danai Chasaki, M.S. 2008, Ph.D. 2012.
Wei Chen, M.S. 2008.
Vikram Desai, M.S. 2012.
Sivakumar Ganapathy, M.S. 2008.
Jeremy Gummeson, M.S. 2010.
Y. Sinan Hanay, Ph.D. 2011.
Xin Huang, Ph.D. 2009.
Karthikeswar Ivaturi, M.S. 2011.
Nauman Javed, Ph.D. 2013.
Xianglong Kong, M.S. 2013.
Sameer Ladiwala, M.S. 2006.
Soumya Mahadevan, M.S. 2007.
Shufu Mao, M.S. 2007.
Anindya Misra, M.S. 2009.
Sriram Natarajan, Ph.D. 2012.
Aditya Nemmaluri, M.S. 2007.
Santosh Proddatoori, M.S. 2009.
Ramaswamy Ramaswamy, Ph.D. 2006.
Arun Reddy Kandoor, M.S. 2010.
Shashank Shanbhag, M.S. 2007, Ph.D. 2011.
Pooja Subramanian, M.S. 2008.
Chai-Hui Tai, M.S. 2006.
Kamlesh Vasudevan, M.S. 2009.
Cong Wang, M.S. 2011.
Ning Weng, Ph.D. 2005.
Peng Wu, M.S. 2012.
Qiang Wu, Ph.D. 2010.
Ning Yang, M.S. 2005.
Shulin You, M.S. 2006.
Jin Zhu, M.S. 2012.
These lists may be incomplete. If you should be listed here of if you would like me to update your information, please send me email.