Intel
My research has been supported by various donations from Intel Corporation. This page highlights the use of Intel equipment in various projects.
Intel Chip Donation
Intel has donated several high-performance server CPUs (E7540 in Fall 2011 and E7-4820 in Fall 2012) for our research projects. We are using these processor in a SuperMicro SuperServer 8046B-6RF system located in our lab.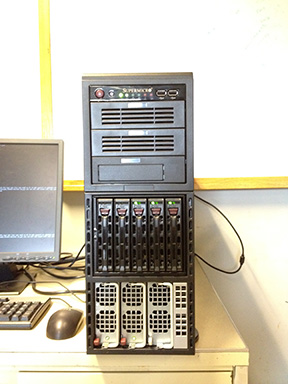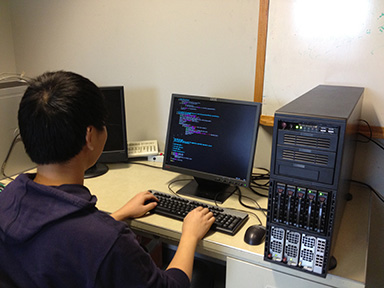 This computer system is used in two ongoing projects:
Virtual Network Mapping: In this project, we address the problem of how to allocate physical network resources to virtual network requests. Since the fundamental problem is NP-complete, there are numerous different heuristics that have been proposed as potential solutions. In our work, we have evaluated different heuristics for a large range of different scenarios and we have developed our own, improved algorithm for virtual network mapping. The computational power provided by the processors donated by Intel were essential to be able to tackle the computational challenges we encountered in this research project.
Automated Network Service Composition: In this ongoing project, we use logic reasoning tools to compose network services such that end-to-end connections with specific semantic requirements can be established. Due to the large size of networks and the large number of potential combinations of compositions, there is need for high-performance computing to be able to solve the composition problem during network runtime.
I would like to thank Intel Corporation for their continued support.