<![if !supportEmptyParas]> <![endif]>
<![if !supportEmptyParas]> <![endif]>
<![if !vml]>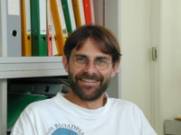 <![endif]>Urs Von Gunten,  Ph.D.
<![if !supportEmptyParas]> <![endif]>
Dr. Urs Von Gunten is currently the head of the Water Resources and Drinking Water<![if !supportNestedAnchors]><![endif]> department at  EAWAG, the Swiss Federal Institute for Environmental Science and Technology.  He has been affiliated with EAWAG since 1989, where he held a postdoctoral position through 1991.  Since 1992, he has worked as a research scientist at EAWAG.  His major research interests include experimental and modeling work in biogeochemical processes in groundwater-infiltration systems, in-situ and ex-situ treatment of reduced groundwater, and chemical oxidation processes in drinking water treatment. 
<![if !supportEmptyParas]> <![endif]>
He received his diploma in 1983 and his Ph.D. in 1989 from the Swiss Federal Institute of Technology (ETH) in Zürich, Switzerland.  He has been published since 1991 on a variety of topics including biogeochemistry, oxidation and disinfection processes with undesired by-product formation, ozonation and advanced oxidation processes, and analytical methods.
<![if !supportEmptyParas]> <![endif]>
Information taken from:  http://www.eawag.ch/research_e/w+t/TW/Urs/index.html.
<![if !supportEmptyParas]> <![endif]>
<![if !supportEmptyParas]> <![endif]>
<![if !supportEmptyParas]> <![endif]>
This page created by: Brian M Therriault                  Last Updated 4/18/01