Exam #2
April 15, 1997
Closed book, 2 sheets of notes allowed.
Please answer all of questions #1 through #5 and one of either #6 or #7. Show all work. Be neat, and box-in your answer.
Answer #1-#5
BOD calculations (20 points)
The Northampton wastewater treatment plant discharges 4.5 MGD of treated wastewater with a BOD5 of 7.5 mg/L. What is the loading in lb of ultimate BOD per day (i.e., lb-BODu/d). Assume a BOD rate constant (k) of 0.18 d-1.
Gas Transfer (20 points)
You have designed a batch diffused aeration system for transferring oxygen into a groundwater. The tank holds 5000 gal, and it has a gas transfer coefficient (KLa) of 0.12 min-1. If the raw groundwater has a DO of 1.5 mg/L and the treated water must have a DO of 7.5 mg/L how may gallons per day can be treated by this system? Assume that the saturation value (Cs) is 10.2 mg/L. Ignore the time required to fill and drain the tank.
Process Sizing (15 points)
A conventional water treatment plant is to be constructed to process 185,000 m3/d. Pilot-plant analysis indicates that an overflow rate of 5 m/hr will be acceptable in the gravity settling tanks. Assuming a surface configuration of approximately 12x30 m, how many settling tanks will be required? Allow one unit out of service for cleaning.
Chemical Dosing (10 points)
How many mg/L of hypochlorous acid are required to oxidize 0.8 mg/L ferrous iron?
Short Answer (10 points)
Define total hardness and carbonate hardness (3 points)
What is the meaning of "CT" when discussing disinfection? (3 points)
Describe conventional drinking water treatment. Identify 2 treatment processes that are not considered "conventional" (4 points)
Answer either #6 or #7
Gravity Settling (25 points)
A settling tank has a width of 20 ft, a depth of 10 ft and a length of 60 ft. It receives 0.60 ft3/s of flow. What fraction of all 0.10 mm diameter alum floc particles will be removed at 5oC (assume 1.04 g/mL floc density)?
Intercontinental Paper and the Mill River (25 points)
The Intercontinental Paper Co. is discharging its wastewater directly into the Mill River. The discharge flow is 3.8 ft3/s (cfs) the discharge D.O. is 8.5 mg/L and the discharge ultimate BOD (BODu) is 35 mg/L. They obtain half of this water from an intake 0.5 miles upstream of the wastewater outfall, and half from groundwater via a nearby well field. On average, the Mill River water upstream of the IPC outfall has an ultimate BOD (BODu) of 2.5 mg/L and a D.O. of 8.5 mg/L. If the Mill River has a flow of 12 cfs upstream of the IPC intake, and if the state permits a minimum DO of 7.5 mg/L in the Mill River, will the state have to further restrict the BOD in IPC's wastewater (i.e., is the stream out of compliance)? Calculate the minimum stream D.O. expected as a result of the IPC discharge.
Additional assumptions: BOD deoxygenation rate: k1 = 0.23 d-1
reaeration rate constant (k2) of 0.82 d-1
D.O saturation concentration = 9.5 mg/L
River flow velocity = 0.5 ft/s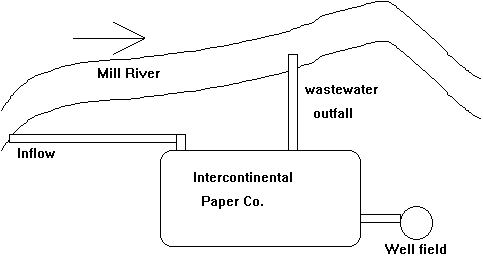 Appendix
Some physical constants of Water:
Temp., oC

Density, kg/m3

Viscosity,

N-s/m2

Kinematic Viscosity, m2/s

0

999.8

1.781x10-3

1.785x10-6

5

1000.0

1.518 x10-3

1.519x10-6

10

999.7

1.307 x10-3

1.306 x10-6

15

999.1

1.139 x10-3

1.139 x10-6

20

998.2

1.002 x10-3

1.003 x10-6

25

997.0

0.890 x10-3

0.893 x10-6

30

995.7

0.798 x10-3

0.800 x10-6

35

994.0

0.725 x10-3

0.729 x10-6

40

992.2

0.653 x10-3

0.658 x10-6
Selected Chemical Constants
| | | | | | |
| --- | --- | --- | --- | --- | --- |
| Element | Symbol | Atomic # | Atomic Wt. | Valence | Electronegativity |
| Aluminum | Al | 13 | 26.98 | 3 | 1.47 |
| Boron | B | 5 | 10.81 | 3 | 2.01 |
| Calcium | Ca | 20 | 40.08 | 2 | 1.04 |
| Carbon | C | 6 | 12.01 | 2,4 | 2.50 |
| Cerium | Ce | 58 | 140.12 | 3,4 | 1.06 |
| Chlorine | Cl | 17 | 35.453 | 1 | |
| Holmiuum | Ho | 67 | 164.93 | 3 | 1.10 |
| Hydrogen | H | 1 | 1.01 | 1 | 2.20 |
| Magnesium | Mg | 12 | 24.31 | 2 | 1.23 |
| Manganese | Mn | 25 | 54.94 | 2,3,4,6,7 | 1.60 |
| Osmium | Os | 76 | 190.2 | 2,3,4,8 | 1.52 |
| Oxygen | O | 8 | 16.00 | 2 | 3.50 |
| Potassium | K | 19 | 39.10 | 1 | 0.91 |
| Sodium | Na | 11 | 22.99 | 1 | 1.01 |
| Sulfur | S | 16 | 32.06 | 2,4,6 | 2.44 |
Useful conversion factors



1 ft = 0.305 m